Historic Properties
The Hotel Roanoke – Roanoke, Virginia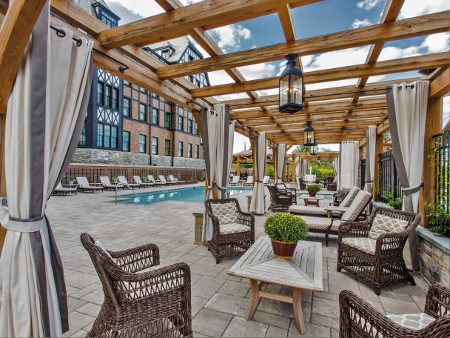 The Hotel Roanoke was built originally built in 1882 by the Norfolk and Western Railway, survived a devastating fire in 1898, and extensively remodeled in 1938 in a Tudorbethan style. As a landmark of Southwest Virginia the buildings and grounds undergo a constant process of rebuilding and revival – the most recently completed renovation being the pool and surrounding grounds by Four Winds in partnership with Glave and Holmes Architecture.
The exterior of the historic building façade features interpretations of timber framed structures typical of the Tudor style of architecture, and it was this element that inspired the design of the property.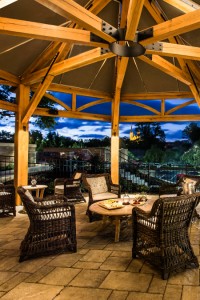 Formerly a simple pool and hot tub floating in a skirt of concrete, the space has been transformed into a unique amenity featuring a series of heavy timber structures that provide multiple uses throughout the seasons.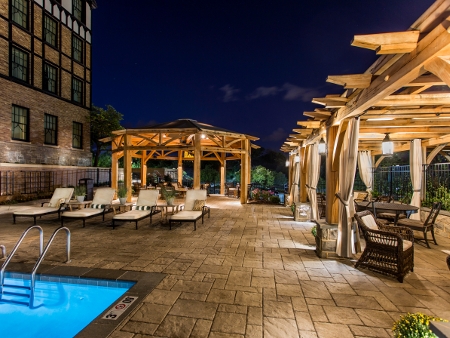 The drapery of the Arcade allows more intimate spaces or locations to expand the Hotel's spa and refreshment services; the Pavilion provides more shelter from the elements and views of the surrounding skyline; while an expanded pool deck incorporates planting pockets to create a garden setting. The approach to the Hotel past the pool area is also addressed, envisioned as a stroll through lushly planted traditional gardens featuring an herb garden for use by the Hotel restaurant. Extensive detailing and custom craftsmanship create a unique and inspiring setting. The opening of the project was met with great appreciation by guests as the space quickly filled to standing room only.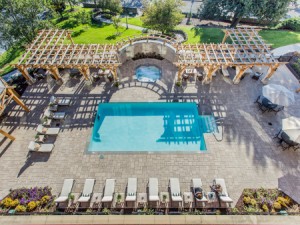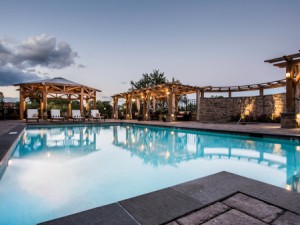 Photography by Glenn Suttenfield.
Project Gallery – Historic Properties